"If the power goes out, the EverCharge® system will open and close your garage door
20 times in 24 hours with no power,"
The Raynor Admiral garage door opener is a powerful, quiet, feature-rich 3/4 HP DC powered belt drive garage door opener with EverCharge® Raynor Standby Power. The Admiral is ideal for homes with living space above or adjacent to the garage.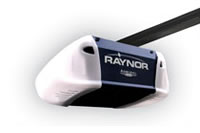 This Premium Raynor model will quietly open and close the heaviest single and double car garage doors, including carriage house doors and solid wooden garage doors. The powerful 3/4 HPs (horsepower strength similar to a 3/4 HP AC model) belt drive system is one of the quietest garage door openers available.
If the power goes out, the EverCharge® system will open and close your garage door 20 times in 24 hours with no power, and recharge when power is restored to your home.
Raynor Admiral Features, Safety and Security
One of Raynor's "Premium" models, the Admiral includes a Premium 3-Button remote control that lights up when your hand comes near it, a motion detecting Smart Control Panel™ that displays time, temperature and other system status messages, and a 2-Bulb, 200 watt (max.) lighting system with adjustable delay.
Manufactured by the Chamberlain Group, the Admiral is similar to the Chamberlain WD962KD and includes all of Raynor's safety and security features, including the PosiLock™ security system that keeps your garage door securely locked once it is fully closed.
The Admiral is also equipped with Raynor's Protector System™ Photo Eyes to stop and reverse the garage door if anything interrupts the beam when the door is opening or closing, and Safety Signal™ rolling code technology to keep potential intruders from steeling your remote transmitter codes.
NOTE: All Raynor garage door openers are sold and installed by a network of professional dealers.
Compare all Raynor Models Side-by-Side
Raynor Admiral Garage Door Opener details
Horsepower: 3/4 HPs (DC Powered, similar to 3/4 HP AC Power)
Type of Drive: Belt
Light Source: 200 watts (max.) 2 Bulbs with adjustable time delay
Security Features:
Safety Signal™ rolling code technology to change the code after every use
Safety Features:
Protector System® Photo Eyes (invisible light beam across the garage opening)
PosiLock™ security system
Manual release handle in case of power outage
Warranty:
Lifetime on the motor
Lifetime on the belt
5 Year warranty on parts
1 Year warranty on EverCharge® Standby Power
Special Features:
Powerful DC Motor
Quiet Belt Drive
Variable Speed w/Soft Start and Stop
Premium Remote Control
Smart Control Panel™ with Time, Temperature, Motion Detection and Vacation Lock
HomeLink® Compatible
Options:
Safety Signal™ Keyless entry
Mini Keychain remote controls
Need a Raynor Garage Door Opener Manual?
All Raynor Garage Door Opener Manuals

---
Review other Raynor Garage Door Opener models
Compare all Raynor Models Side-by-Side
From Raynor Admiral Garage Door Opener back to Garage Door Opener Reviews