Belt Drive Garage Door Opener (Model 4040L)
"This SilentMax model features a heavy duty C-channel rail and is loaded with accessories."
The Overhead Door SilentMax XL garage door opener is a deluxe DC powered belt drive model. This SilentMax model features a heavy duty C-channel rail and is loaded with accessories.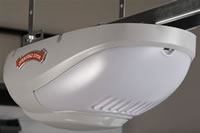 If you want a belt drive garage door opener with style, this is it. It looks a little like a sports car and includes the quiet, powerful lifting force of a DC motor. Soft start and stop operation extends the garage door life and complements the reinforced belt drive to lift one and two-car sectional garage doors.
Features of the Overhead Door SilentMax XL include a dual light system (up to 120 watts), easy limit setting adjustment with SmartSet™, CodeDodger® rolling code technology, and all of Overhead Door's safety features, including the Safe-T-Beam® self diagnostic system that stops and reverses the garage door if something gets in the way.
This Overhead Door model includes two 3-button remote controls, a flashlight remote, a wireless entry keypad and a deluxe wall console. Like other Overhead Door garage door opener models, the SilentMax XL is compatible with HomeLink® and Car2U® vehicle-based universal remote systems.
NOTE: A rail extension kit is necessary if your garage door is more than 7′ 6″ tall.
Compare all Overhead Door Models Side-by-Side
Overhead Door SilentMax XL Belt Garage Door Opener features:
Horsepower: DC Powered – HP not specified
Type of Drive: Belt
Light Source: 120 Watt (max.) Dual light system
Security Features:

CodeDodger® Security with rolling code remotes

Safety Features:

Safe-T-Beam® self-diagnostic system that stops and reverses the garage door when operation is interrupted
Contact reverse feature to stop and reverse the door if it encounters an obstruction
Electronic force adjustment
Timed reverse that will stop and reverse the door if it doesn't close within 30 seconds
STB monitoring system that stops and reverses the garage door if a malfunction occurs with the Safe-T-Beam system
Manual Emergency Release for the garage door

Warranty:

Limited Lifetime on Motor (for original homeowner)
Limited 5-Year on Parts
Limited 1-year on Installation
Consult your Overhead Dealer for warranty details

Special Features:

Two 3-Button Remote Controls
Deluxe Wall Control
Flashlight Remote
Wireless Keypad
Heavy-Duty C-Channel Rail
Quiet belt-drive lifting system
DC powered motor
Compatible with HomeLink® system
Compatible with Lear Car2U™ Home Automation System

Options:

Various Remote Control Options
Emergency Release Kit
(allows exterior access if you have an electrical power failure)
Rail extension kit for taller garage doors
---
Review other Overhead Door Corporation models
Compare all Overhead Door Models Side-by-Side
From Overhead Door SilentMax XL Garage Door Opener back to Garage Door Opener Reviews