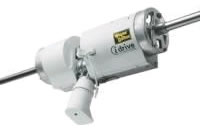 The idrive garage door opener is an innovative, quiet, space saving, torsion drive model from Wayne Dalton garage door openers. Is this the best garage door opener for you? That depends on your garage door and your budget. While torsion drive units are more expensive and generally more difficult for the do-it-yourselfer to install, they also bring a lot to the table.
How does it work?
Lest you become confused, the idrive garage door opener is NOT a style of garage opener. It is a specific model from Wayne Dalton garage door openers (think "Kleenex®" vs. "facial tissue"). The style is commonly known as "torsion drive."
Torsion drive units are mounted on the front wall of the garage, just above (for idrive garage door openers from Wayne-Dalton) or to the side (for Jackshaft openers from Chamberlain's LiftMaster Professional line) of the door. Torsion drive openers attach directly to the torsion shaft, eliminating the need to mount a box on the ceiling with a track leading to the garage door. No more belts, chains or screw drives, resulting in an additional six or eight inches of ceiling clearance.
The spring system that lifts your garage door is called the counterbalance, and it includes the springs, pulleys and drums all working together.
Do you drive a tall SUV? Is your rig sporting a roof box? Is your garage ceiling a little lower than you would like? Do you have a very low or cathedral-style ceiling? If you answered "Yes" to any of those questions, the torsion drive may be for you.
Quieter and Faster than Traditional Garage Door Openers
Torsion drive units are also very quiet and faster than "traditional" designs. With no ceiling-mounted track transferring noise to your house, most of the noise goes away.
And, if you want to get in your garage and close the door as fast as possible, this is one of your speediest options. The industry standard for speed is about 7 inches per second. Wayne-Dalton's Torsion idrive®, for example, moves almost twice as fast at 12 inches per second.
Is the idrive garage door opener the best torsion drive option?
Wayne-Dalton garage doors brought torsion drive units to the market and their three models cover the gamut in garage doors. If your garage door counterbalance system has a torsion spring (a spring mounted on the torsion shaft above the garage door), extension springs (long springs extending from the door along the garage door rails) or is a Wayne-Dalton® Torquemaster® system, the idrive garage door opener will work for you. That is, if your door is not more than 8 feet tall and 18 feet wide.
Even if Wayne-Dalton makes the original, there are other options. Chamberlain's LiftMaster Professional line includes the Jackshaft Garage Door Opener, Model 3800, also a torsion drive opener. Chamberlain's Jackshaft opener mounts to the side rather than above the door, and will work on doors up to 14 feet tall.
What about the warranty?
Wayne-Dalton's idrive garage door opener carries a lifetime limited warranty for the motor against defects in materials and workmanship. Other components also have extended limited warranties; however, you will want to check with your dealer for complete warranty details.
Chamberlain's Jackshaft opener caries a lifetime motor warranty with 5-year parts warranty and 1-year battery warranty.

Wayne-Dalton idrive TorqueMaster
Garage Door Opener – Model 3663-372
Are they easy to install?
That depends on whom you ask. For some, the Wayne-Dalton idrive garage door opener is easier than traditional garage door openers to install. For others, it is difficult to the point that you need to hire a professional. Hmmm.
The first thing I did was visit Wayne-Dalton.com and watch their excellent installation videos. They created very detailed, step-by-step videos for all three types of idrive® openers. Once you view the video for your type of garage door, you will feel a lot better about making the "should-I-do-it-or-should-I-hire-it-done?" decision.
For the sake of this decision, here are a few things to consider:
idrive® is only to be installed on a properly installed multi-section garage door.
Installing the idrive® on an improperly balanced door could cause severe injury. A properly balanced door should take minimal effort to raise manually. Also, it should stay in the fully opened or fully closed position by itself.
idrive garage door openers can only be installed on doors with torsion counterbalance systems.
Prior to installation, it's a good idea to have a service professional check your door to see that all hardware, rollers, cables, etc., are in good working order.
You must have access to a 120v grounded receptacle above the garage door, or you will need a power cord extender kit.
If you DO choose the DIY route, remember to budget from two to five hours of installation time, depending on your skill level. That said, I am a firm believer in hiring a qualified professional if you want the job done, and done right. My biggest problem with DIY projects is having too many on my plate at one time. And "time" is the key word.
Sometimes it's better to go fishing or spend a little extra time with your family than to start another project (unless this IS the family project, and EVERYONE is "into it"). As you will read time and time again on this site, one of my favorite DIY alternatives is asking a handy friend to help, provided they know what they are doing.
CAUTION: If you are going to install the opener yourself, you can save a lot of time and frustration by checking the installation parameters BEFORE you even buy the opener. Read: Watch the idrive® videos at Wayne-Dalton.com. A "plus" is that idrive® openers have fewer parts than their "traditional" counterparts, so the likelihood that you will be missing some critical piece is much lower.
How much do they cost?
The idrive garage door opener Model 3663-372 is designed to be used only with Wayne-Dalton TorqueMaster® door systems. This model retails for around $300, with sale prices dipping slightly lower. If you do not have a Wayne-Dalton TorqueMaster® door system, you will need the idrive Model 3650 for torsion spring doors. This model, too, sells for around $300.
If you decide on Chamberlain's Liftmaster Jackshaft opener, or your door is more than 8 feet tall (the maximum height for the idrive), plan on spending another $100 or so. One neat option for this model is the EverCharge™ battery backup system that reliably opens your garage door even when the power goes out. Have you ever been locked out by a power outage with the rain coming down in sheets? At about $90, you will be happy to have purchased the EverCharge™ system.
What about options?
You won't find too many options in this category of openers. Standard equipment for the idrive garage door opener includes a 5-function wall station, energy efficient security light, two 3-button remote control transmitters, infrared sensors and a 5-button keyless entry pad. Two available options include the power cord extender kit for those without a 120v grounded outlet above the door, and the extension spring adapter system for doors with an extension spring counterbalance.
With Chamberlain's Liftmaster Jackshaft opener, you get everything but the EverCharge™ Standby Power System.
What's the Bottom Line?
If you like the torsion drive option, it will cost a bit more, but the quiet operation, extra ceiling space and faster closing performance may be worth the price. You will likely be the envy of your neighbors, too. Is their name Jones? (just kidding!)
Before making your final decision, be sure to consider the low maintenance screw drive opener, the quiet-as-a-mouse belt drive garage door opener, or the strong as an ox chain drive garage door opener. They all have their good qualities and their purpose. Do your homework, then decide.
---
Return from idrive Garage Door Opener back to Garage Openers