"Use an Overhead Garage Storage system to store your kayak, boxes or canoe."
A Heavy Lift Garage Storage system will store large, bulky items on the garage ceiling, including boxes, canoes or kayaks, seasonal clothing, sports equipment and more. Clear the clutter on your garage floor with efficient garage ceiling storage.
The RacorPro PHL-1R Pro Garage Storage Rack
is a great addition to your garage organization arsenal. The best thing about this overhead garage storage tool is that you don't need a ladder. Just lower the storage platform, load your items, and raise it back to the ceiling, up and out of the way.
Benefits of a Heavy Lift Garage Storage Rack
The RacoPro PHL-1R heavy lift storage system offers many benefits, including:
Generally easy to install for "handy" do-it-yourselfers
Clears 16 square feet of garage floor area by storing items on the ceiling
Can be used to store canoes, kayaks, sports equipment, boxes and other bulky items
Will lift up to 250 pounds
Locks securely in place
Reasonably inexpensive solution to reclaim your garage floor
A Heavy Lift Garage Storage Rack is Easy to Install and Use
Using the RacorPro PHL-1R Pro HeavyLift Garage Storage Rack
is easy. Just lower the 4 foot by 4 foot storage platform, load your items and hoist it back to the ceiling. The platform will lower up to 8 feet, making this overhead garage storage model usable on ceilings up to 12 feet tall. NOTE: If your garage ceiling is over 8 feet tall, the storage platform will not come down all the way to the floor.
To raise the platform, you simply use the winding crank or the drill driver attachment. Once the platform is raised into position, the safety lock can be engaged or disengaged using the winding crank.
With basic tools and know-how, you can reclaim 16 square feet of of your garage floor. Installation requires some assembly. All you need for installation is a few tools, including a cordless drill, Phillips screwdriver, chalk line or 4-foot straight edge, a stud finder and marking pencil, a box-end or adjustable wrench and a socket wrench.
Innovative and Inexpensive Storage Space
The RacorPro Heavy Lift Garage Storage system is one of my favorite garage ceiling storage solutions. If you have ever fallen off a ladder while lifting something up onto a shelf, this is a great alternative. It's also better than tripping over extra tires, a canoe or kayak, or storage boxes stacked on your garage floor.
The Racor Heavy Lift Garage Storage lift is also very inexpensive for what you get. Heavy duty steel support beams and a durable 4 foot by 4 foot platform will handle heavy loads up to 250 pounds and provide years of service.
More Garage Organization Systems
From kayaks to canoes, cartop carriers to truck canopies, bicycles, cars and ATVs, you can use a manually or electronically operated lift or hoist to clear the clutter in your garage. Why not use a kayak hoist or a canoe hoist instead of taking up valuable garage floor space? Other garage storage solutions include garage shelves, garage storage cabinets, workbenches and tool boxes
.
If you have garage attic space, installing an attic ladder or garage loft ladder can seriously expand your garage storage capacity. First, get organized and get rid of everything you no longer want or need. Then, install efficient garage organization systems to store what you keep.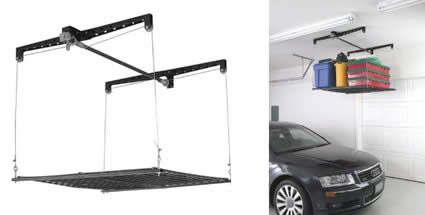 Racor PHL-1R Pro HeavyLift 4-by-4-Foot Cable-Lifted Storage Rack
WARNING! Don't use your new garage storage space to store stuff you don't need or use. Start with a garage organization project, eliminate your garage clutter, and then decide what to keep.  Once you know what you need to store you can decide what kind of garage ceiling storage systems
you need (if you need any at all!).
Return from Heavy Lift Garage Storage back to the Garage Ceiling Storage page
Return to Garage How To home page