"When it comes to power, go with at least the one-half horsepower motor,
three-quarter horsepower if you have a heavy carriage-style door."
Selecting the best garage door opener depends on your specific needs. Chain drive, screw drive, belt drive or torsion drive? Sears, Chamberlain, Genie, Wayne-Dalton? Follow the advice below and choosing becomes much easier.

Because different openers have different qualities, their usefulness to you depends on your personal tastes, method of installation, garage type, budget, etc. The best garage door opener is the one that works the best for you. Does that sound like a cop-out? Don't give up reading just yet.
If you want all the details, simply click on any of the four options (below) and you will be taken to an entire page of information on each. You may also visit ourgarage door opener reviews page for specific information on brands, models and buying advice. If you just want a broad overview, please read on.
What's the most common and least expensive?
The chain drive garage door opener (although they are the noisiest choice). Some chain drive models are also the strongest option available for the heaviest of garage doors. You can find chain drive garage door openers just about anywhere … from your local hardware store, to Sears, The Home Depot, Costco, etc.
What's the easiest to install with high customer satisfaction?
The screw drive garage door opener. Yep, that's the one "Genie" brought to the market so many years ago.
Food For Thought…
OK, maybe you have "Super DIY" emblazoned on your T-shirt and you can install just about anything. For the rest of us, we would rather not spend all day Saturday reading and re-reading the instructions before installing, uninstalling and re-installing the blamed garage door opener just to save a few bucks!
A belt drive garage door opener or torsion drive garage door opener. Is your garage adjacent to or directly under your living space? Go with the belt drive. Do you have a low garage ceiling or the need for a little extra room "up there?" Or, maybe you just want the latest and greatest thing when it comes on the market? Go with the torsion drive.
What's the best garage door opener when it comes to safety?
Just about any garage door opener you buy will have
garage door sensors
to keep the door from closing on someone or something underneath the garage door. Are they fail-safe? No. My eleven year old, perfectly healthy cat ("Sam," for those who are interested) was killed by my sister's garage door in a freak accident. He was sleeping under a partially opened door, not quite in front of the electric eye beam, and the garage door was closed. End of story. Not a good night. In fact, that was not a good week.
Anyway, it's always a good idea to check the door before closing it, even if you have the best garage door opener in the world. If you have an old door without the safety sensor, that, alone, may be reason enough to replace it … especially if you have children or pets. Here are 6 good reasons to consider a garage door opener replacement.
When it comes to garage safety, there is one more very important thing to remember: the "contact obstruction" test. When garage doors close on top of an object (or cat!), they should automatically reverse and open. Typically, the adjustment should cause your door to open if it contacts an obstruction at least 1 1/2″ in height. If your door is not properly adjusted, you may also have a bad cat experience (or worse). Remember to check your door for proper operation, or contact a qualified garage professional to help.
What's the best garage door opener in terms of power?
When it comes to power, go with at least the one-half horsepower motor, three-quarter horsepower if you have a heavy carriage house-style door. Yes, the spring is supposed to do all the work, but I believe in overkill. With the extra power you can be assured that lifting most heavy doors will be a snap, and the opener won't burn out as fast as an under-powered model.
New Garage Door Opener Technology
The latest hi-tech garage door openers allows homeowners to monitor, open and close their garage doors using a smart phone or computer from anywhere they have an internet connection.
The Chamberlain Group brought this technology to the market in their professionally installed Liftmaster line as well as in the Craftsman garage door openers they manufacture for Sears. Chamberlain brand openers as sure to follow, as well as other major manufacturers like Overhead Door and Genie.
For Liftmaster and Chamberlain, all you need is an optional internet gateway device and a free app for your smart phone or computer. Learn more about the garage door opener app and this cool new feature.
Do Your Homework
There are many garage door openers out there to choose from. Most are dependable and will last a long time. Just be sure to do a little homework to ensure you are buying the best garage door opener for you, paying close attention to the options.
With so many brands, models and configurations, be certain you are getting everything you need. One light or two? One control or two with one button or more? Exterior keypad? Security codes? You get the idea.
One Final Word on Garage Door Contractors
If you aren't the do-it-yourself type, you will need to hire a garage door contractor. Be careful! There are a lot of so-called professionals out there, and you don't want to have someone hack your job together just to save you a few dollars. Select the best garage door opener and hire a hack. Not good. Instead, check the yellow pages, make a few calls and GET REFERENCES! I would even go so far as to ask your prospective contractor if they or their employees will be doing the work.
The last time I had a garage door spring replaced (about 10 years ago), I called one of the "brand name" garage door companies to have the work done. Much to my surprise, some no-name garage door repair van showed up in my driveway. It was legit, but the guy certainly wasn't an expert and I was slightly ticked off.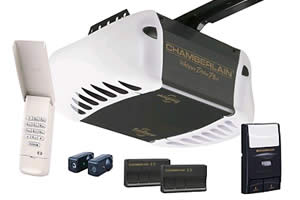 Chamberlain 3/4 hp Whisper Drive Plus
w/Battery Back-up, Belt Drive – Model #WD962KD
My favorite garage door contractor?
He isn't in the yellow pages, doesn't advertise, and doesn't work for one of the "big guys." He came to me by way of a friend's referral, and he is the best garage door opener (and garage door, for that matter) man I have ever met. His name is Joe if you want to give him a call (Just kidding. I know he probably doesn't work in your town).
Do your research. Buy what's right for you (not the sales person), and enjoy your new garage door opener!
---
Return from Best Garage Door Opener back to Garage Door Opener Reviews page
Find your Garage Door Opener Manual here