"The Genie® name has been synonymous with
screw drive garage door openers for nearly 50 years."
Genie originated the screw drive automatic garage door opener and is a well-known and trusted brand. If you want something other than a
chain drive garage door opener
, and you don't want to pay a lot more for a great alternative, a screw drive opener may be just what you need.
How does a screw drive overhead
garage door opener work?
Rather than being lifted by a chain or belt, the screw drive garage door lifting mechanism moves along a threaded steel rod, also known as a "direct drive" system. Screw drive openers have very few moving parts, with no chains, belts or gears to wear out, making them very reliable, low maintenance openers.
Although screw drive garage door openers are not as noisy as chain drive openers, they are not as quiet as belt drive garage door openers. Genie®, the screw drive industry leader, sells not only their traditional Screw Drive, but a newer dealer-installed model called the Excelerator®, designed with a fully lined rail to help decrease noise and vibration.
Another advantage to the Excelerator® is speed. Standard garage door openers lift garage doors at about 7 inches per second. According to Genie®, the Excelerator® opens twice as fast as any garage door opener on the market today, with opening speeds of up to 14 inches per second.
Who makes the best screw drive automatic garage door opener?
In the screw drive category, the Genie® name has been synonymous with the screw drive automatic garage door opener for nearly 50 years. It's hard to argue with that kind of history. Genie® offers DIY and dealer installed models, including their innovative Exelerator® line just discussed.
If you need an alternative to Genie®, Chamberlain is a good choice, with screw drive models in their LiftMaster Professional line as well as their Do-It-Yourself line. As the world's largest manufacturer of residential and commercial door operators, access control products and gate operators, Chamberlain has something for everyone.
What about the warranty?
Warrantees on screw drive models vary by make and model. While some Genie® models carry a 15-year warranty on the motor and 3 years on parts, other models carry a Lifetime motor warranty. Check with your dealer or retailer for more details.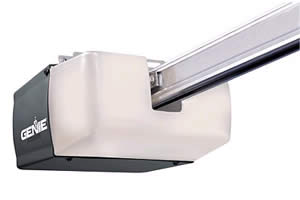 Genie 1/2 hp Garage Door Opener
w/Direct Lift™ Screw Drive – Model #36280R
Are they easy to install?
For the do-it-yourselfer, consumers rate screw drive automatic garage door openers among the easiest to install. Remember to budget from two to five hours of installation time, depending on your skill level. If you would just as soon not attempt another DIY project this year (or your wife tells you not to!), hiring a professional is well worth the money. As an alternative, you might have a handy friend who enjoys a good barbecue. Bribe him (or her) with food. It (usually) works for me!
CAUTION: If you are going to install the opener yourself, you can save a lot of time and frustration by checking the installation parameters BEFORE you even buy the opener. It's a good idea to check with the manufacturer to be certain you have everything you need. Some models include only the bare minimum in parts and you must buy some parts separately.
In addition, be sure you have enough ceiling length and vertical height for the model you are considering, something to attach to, i.e., framing members, as well as access to a 110-volt grounded outlet. Remember, too, that some models are designed for seven foot doors, some for eight foot doors, etc. It's a lot to think about, but the little bit of extra time you spend up front will be well worth it!
How much do they cost?
Although screw drive automatic garage door openers are not that much more expensive than chain drive units, they start at below $170 for the do-it-yourself models, and head somewhere north of $300 from there. Whether you buy a Genie screw drive, a Liftmaster by Chamberlain, or some other brand, most people think the installation is very easy to understand.
As an example, you can buy a Genie 1/2 hp Screw Drive Garage Door Opener with DirectLift™ (Model 36280R) on sale for around $170. This model comes with two 3-function remote controls, a deluxe wall console, a 15-year motor warranty and 3 years on parts.
For about another $20 (on sale), you can buy the Model 36280S DirectLift™ Plus. What's the "Plus" and what do you get for another $20? For starters, you get the Premium Accessory package with two 3-function remote controls and deluxe wall console, Plus you get a wireless keypad and the Perfect Stop parking system (this, alone, sells separately for about $10). But wait, there's more! Genie also extends their 15-year motor warranty to a Lifetime warranty and you get the same 3 years on parts as with the Model 36280R.
What about other brands? For about $200, you can buy Chamberlain's Model PD422D 1/2 HP Screw Drive Garage Door Opener. This model comes with 2 single button remote controls, a multi-function wall control panel, a Wireless Keyless Entry System, and a 6-year warranty on the motor.
Before making your final decision, you might also consider Chamberlain's highly-rated Model WD822KD Whisper Drive 1/2 HP belt drive garage door opener. I know this isn't a screw drive unit, but it is comparable in price and gets great reviews to boot!
What about options?
As with most consumer goods today, you always have a list of optional features to consider. Buying a car? Do you want air conditioning? Electric windows? CD changer? You get the idea.
It's no different when buying an automatic garage door opener. One light or two? One remote control or two with one button or three? Exterior keyless entry pad? More options generally equate to a higher price, but not always. Manufacturers often make more models with a particular set of options, causing other models, even with fewer options, to cost more. Think about what you really need (or may some day) before making a mistake and having to pay for it later. Get the second remote and get the keyless entry pad. You won't regret it.
What's the Bottom Line?
Screw drive automatic garage door openers are reasonably inexpensive, relatively easy to install, and one of the quietest options available. In many cases, a screw drive opener will fill the bill quite nicely. They tend to be just above the chain drive garage door opener on the pricing scale, but they are typically a little quieter. If you really want (or need) the quietest model available, you should consider a belt drive garage door openerbefore making your final decision.

Return from screw drive Automatic Garage Door Opener back to Garage Openers