"If you want a fully functional two car garage plan,
shoot for 24 X 24 at a MINIMUM."
What's on this page?
Detailed information about the ideal 2 car garage plan, with video.
Cost considerations for a larger garage, including resale value.
A great book to help with planning and building.
Make the wrong choice when planning and it will cost you. Don't make this mistake. Choose wisely, boost your home's value and save yourself a lot of unnecessary frustration. How?

Remember: Size matters! With so many car garage plans available, be SURE you have taken ample time to plan for what YOU need AND ensure that you don't DECREASE the value of your home.
The next time you pick up a home plan book or visit a website that sells home and garage plans, pay more attention to the garage size, especially if it's a two car garage plan.
When I did a random, online search for home plans from 2100 to 2499 square feet I discovered 40 of 50 were 2 car garage plans. My last report on garage size was based on the U.S. Census Bureau Characteristics of New Housing for 2010. My latest data is from the 2014 report and can be found towards the bottom of this page.
How Big Is Big Enough for a 2 Car Garage Plan?
If you want a fully functional 2 car garage, shoot for 24 X 24 at a MINIMUM. Why so big? First and foremost, your garage is supposed to house your cars. How big are YOUR cars? If you drive a Mini Cooper, it's just over 12′ long. No problem. However, if that's not your only car, you might drive something a little longer.
A 2016 Ford Explorer is about 16 1/2 feet long. That's been the same for years. Similar SUVs are also in the 16′ long category. Minivans, like the Toyota Sienna, Honda Odyssey, etc., come in around 17 feet long.
A Ford F-150, depending on the style, starts at just under 20 feet and goes up from there. My comments are not intended to be brand-specific, but the dimensions are very important to consider.
Food For Thought…
If ALL you want to put in the garage is cars, OK. On the other hand, most people have so much "stuff" (aka C.R.A.P) in their garage, they don't have room for their cars. Hmmm. A few hundred dollars worth of C.R…, uh, stuff, on the inside, and a $33,000+ car parked outside (the approximate average price of a new car according to Kelley Blue Book in August 2015).
Why should your garage be so big? Room for your "stuff," a garage workbench and tools, hobby space, recreational equipment storage, "toys" (including Big Boy toys), laundry appliances, utility sink, and on the list goes. If you want to learn how to organize your garage, that's a topic covered elsewhere on this site.
Let's do the numbers
Park your Ford Explorer in the garage with at least one foot between it and the garage door. That leaves about 30 inches in front of the vehicle if your garage is 20′ deep. Subtract 25″ for the workbench and you now have 5″ to spare. My advice? Stay slim. REALLY slim.
Now, let's park your Ford Explorer in a 24′ deep garage. With the same one foot between it and the garage door, you have about 4 1/2 feet between the front bumper and your workbench. "But," you say, "I'll just back my car out of the garage when I need to do some work?" Why not choose a 2 car garage plan that allows enough room to actually walk from one side of the car to the other, without opening the garage door?
You DO have a full-sized pickup?
Are you driving the standard cab, long box Chevy Silverado (forget the extended cab)? If your garage is only 20′ deep, your front bumper is resting against the wall and you have barely over a foot between your tailgate and the garage door. Extend your 2 car garage plan by a mere four feet, and you might have a chance!
If you really DO drive a Mini Cooper, do you think the NEXT owner of your house will drive a Mini Cooper? Why chance it. Get the size right and reap the reward – now AND in the future if you ever decide to sell.
What about width?
The wider the better! Let's go back to our Ford Explorer, which is about 6′ 7″ wide. You don't drive a Ford Explorer? Neither do I, but I had to pick something, and the Explorer is one of the more popular SUVs.
Ask a garage planner and they will likely tell you 30″ is the minimum comfortable width between cars in a garage or between your car and the wall. Why? So you can open your doors IN the garage. In a 2 car garage plan example, that means you need 30″ between the walls and the cars, as well as 30″ between the cars. Add to that 6′ 7″ each (13′ 2″ total) for two cars and you reach a minimum width of 20′ 8″.
Do you want to have room for storage along the walls? If you place 24″ shelving on both walls (remember all your C.R.A.P.?), you are now 8 inches short of "ideal." Since the newest Explorer is wider than its predecessors, a minimum of 24′ is still a very good size, although you may opt for 24″ shelving on one side wall and 18″ shelving on the other.
But THAT 2 car garage plan would cost a LOT more to build?
Really? As an example, let's say you bought a house with a garage that was 20′ X 20′ wide and you had a 30 year, $200,000 mortgage at 6% (even though interest rates could be lower). Your payment would be about $1193 per month. Just for fun, let's bump your garage out to 24′ deep, adding 80 square feet. Even though garages are less expensive to build than the rest of the house, let's use $100 per square foot and add $8000 to the cost of your house. Your payment only went up by $48 per month!
If you expanded your garage to 24′ wide, my "ideal" recommendation, that adds 176 square feet and $17,600 to the cost. Your payment goes up by $106 per month from the $200,000 example. Remember, I am using $100 per foot while garage construction generally comes in under $50 per square foot.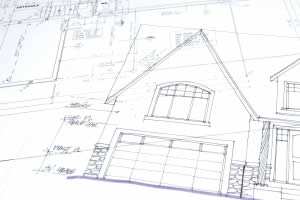 The Right 2-Car Garage Plan Makes All The Difference!
Is a larger 2 car garage plan worth another $48 to $106 bucks a month?
My wife always catches me when I start talking about resale value. She says, "WE live here and WE AREN'T selling our house." (Marriage counseling? No, we're good, we're good.).
OK, what if you NEVER sold your house? You still win. If you stay in your house for the rest of your life (and then what?) you STILL get to enjoy a comfortable garage for all those years. No more door dings when opening the car door. No more backing out into the rain to let someone else climb in. No more mini-storage costs for storing all your "valuable" C.R.A.P.
Mini-Storage Rant
According to the Self Storage Association of America, 1 in 10 Americans currently rents a self-storage space, aka, "mini-storage." That's up from 1 in 17 in 1995. In 2014, revenue to the self-storage industry was roughly $27 Billion, up from $22 Billion in 2010.

Think about it. We own so much stuff that we spend $27 Billion a year storing it outside our own home. Step 1 is to get rid of the stuff we don't need or even want. Step 2 to is to organize your garage and, if possible, have a properly sized 2 car garage plan (or 3 car garage plan). End of rant.
But, what if you DID sell your house?
After more than 30 years as a licensed real estate broker, I have learned one very important lesson about selling your house. When you put it on the market, you are in COMPETITION with every other house in your price range.
In other words, if two houses are priced about the same, have about the same floor plan, and are located in the same desirable area, why would someone choose YOUR house over one down the street? Because YOUR house has a better garage (or kitchen or whatever feature you want to name)!
Add $106 bucks (or less) a month to your house payment today to get the RIGHT 2 car garage plan, and you will be VERY happy you did when (or if) you ever decide to sell.
Latest Data on New Home Garage Sizes
A few things have changed since 2010. The latest report is for 2014, with the specific details on garage size in single-family houses below, comparing 2014 to 2010 nationwide.
| Garage(s) | 2010 | 2014 |
| --- | --- | --- |
| 1 Car | 6% | 6% |
| 2 Car | 63% | 62% |
| 3 Car+ | 16% | 23% |
| Carport | 1% | 1% |
| No Garage* | 13% | 9% |
*No garage or carport
As you can see, things have changed in only 4 years. The same small percentage of homes is built with a 1 car garage, and 2 car garage plans are also about the same, but that's where it stops.
In 2014, the number of 3 car garage plans in single-family homes increased from 16% to 23%. And the number of plans with no garage decreased from 13% to 9%.  That is significant.
So, how big are the garages being built today? To determine that, I visited the websites of America's largest home builders and studied their plans. Since the top three builders account for more than 40% of new home construction, I studied D.R. Horton (18%), Lennar Corp (13%), and PulteGroup (10%).
After studying numerous communities from Texas to Minnesota and Oregon (my home state), a theme emerged. On average, 2 car garages were the most prevalent type, except for a few with a double-deep bay, allowing room for a third, small car or shop.
Size wise, the average width was 20 feet and the average depth was 21 feet. While this was a non-scientific study with lots of variables, it did tell me one thing: Unless you have a home custom built, your garage will be too small.
Even on larger homes it was the same. Home square footage in my study ranged from 1481 to 3768. But the garage size remained about the same. Even the 3768 square foot home had a garage that was 20 feet wide by 22 feet 6 inches deep. Good grief!
Maybe this is why the off-site storage, aka, "mini-storage," business is doing so well. People don't have room in their garages for their two cars, let alone everything they want to store.
Helpful Resource
Pick up a book called Smart Guide®: Garages & Carports.
This Creative Homeowner publication is the revised edition from March 3, 2008. You will see the minimum "comfortable" length of a garage is 23-24 ft (where have you heard that before?) and a width of 20-24 feet.
Personally, I prefer 24 X 24. This is a great book if you want to learn how to read blueprints, learn building techniques from foundations to framing, learn how to install siding, roofing, windows, doors and more! More than 240 detailed drawings and photos are tailor-made for those of us who enjoy doing it ourselves (or keeping an eye on those who actually do the work).
You need a 3 car garage plan?
Take a look at my 3 Car Garage Plan page. Thinking about a garage apartment or guest house, workshop or home office, starter home or recreation center? Learn more about garage apartment plans to meet your needs!
Visit the 3 Car Garage Plan page
Return from 2 Car Garage Plan back to Garage How To home page